David White's hits 40 years with Charterhouse.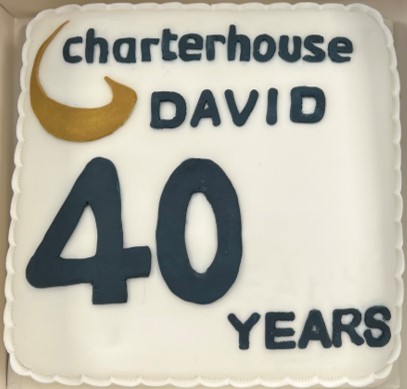 In the last 40 years a lot has happened, here are some of the highlights;
2008 was the last time Spurs won a cup.
In 2007 the first iPhone was released
In 2004 Facebook was founded
In 2002 I am a Celebrity get me out of here started.
In 2000 we had the world's biggest non-event – the Y2K computer bug. What a load of hype!!
In 1997 Princess Diana was killed in a car crash in Paris
In 1990

Bart Simpson first hit our screens
The cost of a litre of unleaded fuel was 40p now it's just short of £2.
Nelson Mandela was released from jail, marking the end of Apartheid

In 1989 the Berlin Wall came down.
In 1988 we had the Lockerbie disaster
In 1986 we had Chernobyl and the space shuttle Challenger exploding shortly after take-off
In 1985 we had Queen and others performing at Live Aid and EastEnders was on TV for the first time
In 1983 The Internet was born and Lotus 123 was released
In 1982 we had several things

The Falklands War began and ended and
Michael Jackson released Thriller
Many of you might not remember some of these but the constant factor through all of these changes for us at Charterhouse has been the presence of David White, our joint Managing Director who joined the firm on November 15th 1982.
Much has changed in the world as well as in the world of Charterhouse, with the journey leading us to its current place in Harrow with David and his partner Raj leading the firm.  We have all had to adapt during this time and significantly David is finally embracing technology and has cleared his office of paper to move into the digital world!
With David and Raj leading the team, Charterhouse are also evolving, something we are extremely proud off, embracing new technology to help add value to our clients, reduce the burden on them both in terms of cost and time needed. But technology only goes so far and over the past few years our team has evolved and is stronger than ever.
Whilst this is a great opportunity to celebrate David's time with the business it is also a chance to thank everyone involved in the business, our team, our partners and most importantly our clients.
Whilst we celebrate David's 40 year milestone we can also look forward to another 40 years of supporting our clients.
To find out more about our services please contact us.
welcome@charter-house.net