Skydiving for MIND in Harrow – The Charterhouse Challenge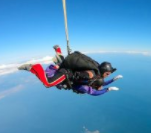 As you may know, this year, as a business, we have adopted MIND in Harrow as our Charity of the Year. Our support for them includes a number of different strands, but in addition to this the team at Charterhouse are looking to raise money for the charity by doing a number of different challenges throughout the year.
All of the events will challenge those taking part, taking them out of their comfort zone to achieve goals that they might not otherwise have achieved.
"FREEFALLING AT 125MPH IS AN EXPERIENCE LIKE NOTHING ON EARTH. BEYOND EXHILARATING IT DEFIES DESCRIPTION. THE ONLY WAY TO UNDERSTAND IT IS TO DO IT!" – skydiving instructor
Ever the leader, one of our joint managing directors, Raj Jiwani has decided to "throw himself out of a plane". Now, why anyone would ever want to jump out of a perfectly good plane bemuses me, but Raj is doing it and wants to make sure that others benefit from his decision to take this massive step.
This is the first of the Charterhouse Challenges for the year and we would like to raise much needed funds for MIND in Harrow in doing these events. We have set up a Just Giving page for the challenges and any help you can give will be greatly appreciated by the charity.
To find out more about this challenge and the other challenges we will be involved in please contact us. Also, if you would like to understand more about our work with charities and the community, please contact Owen Hughes.
welcome@charter-house.net