St Lukes Hospice launch Home Care Appeal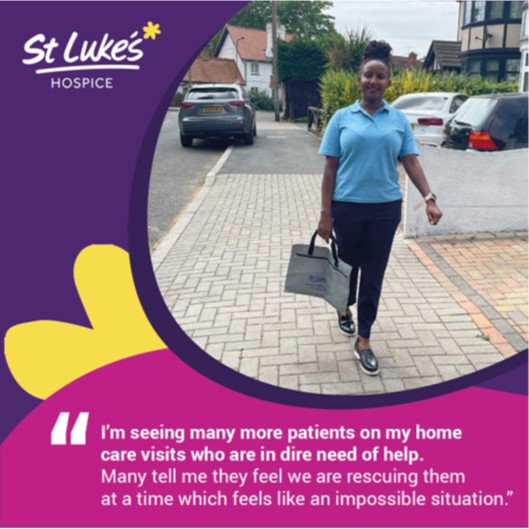 We have recently announced our new Charity of the Year, St Lukes Hospice and as part of our support for them we will share updates to our network contacts over the coming twelve months.
Sadly, the demand for St Luke's home care service has rocketed in 2023 as they now care for 70% more people than last year! St Luke's HealthCare Assistant, Jacinta is helping to meet this demand and says: "I'm seeing many more patients on my home care visits who are in dire need of help. Many of them tell me they feel we are rescuing them at a time which feels like an impossible situation.
It is a tremendous struggle for families when their loved one comes home and they suddenly can't stand or are in excruciating pain. These end of life symptoms can happen all at once making it difficult for everyone in the home to cope. Their home care visits help with personal care, showering, and ensuring patients get good nutritious food with dignity. They also give carers a much needed break."
St Luke's has just launched their St Luke's Home Care Appeal to help give essential care to families going through these tough times.
We wanted to share this and if you would like to help or find out more, please see their web page: www.stlukes-hospice.org/homecare.
If you would like to find out more about our work with St Luke's and other charities please have a look at our website or contact us.
welcome@charter-house.net