Swap your bed for a sleeping bag and help fight homelessness in your sleep! Big Sleepout 2021: At home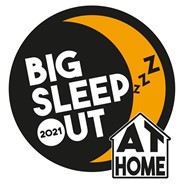 One of the charities we have supported over many years has been Wycombe Homeless Connection (WHC). A lot of this support has been through David White's work with Business Connections in Gerrards Cross. This work has enabled Charterhouse to help them support the many homeless and those at risk of becoming homeless in High Wycombe.
Every year WHC run a "Big Sleepout" where people swap their nice warm beds for cardboard boxes for a night and this year is no exception.
On Friday 19th November the WHC Big Sleepout 2021: At home is taking place and we want to help get as many people involved as possible.
This year in particular we are going to support David Tolson of Simply Digital, a fellow member of Business Connections and client of Charterhouse, as he is doing the sleepout and to sponsor David go to his Just Giving page here.
Full details of the sleepout can be found here
Here is a brief overview:
Big Sleepout 2021: At home
Swap your bed for a sleeping bag and help fight homelessness in your sleep!
WHC need more people than ever before to 'sleep out' on Friday 19th November in solidarity with the people we serve, and raise money.
The 'Everyone In' government-led initiative that paid for emergency accommodation for most people who would otherwise have been sleeping rough during the COVID-19 pandemic has ended locally. WHC are working with Buckinghamshire Council and our partners to make sure as few people return to the streets as possible.
They need to make sure that extra-special emergency support and help is provided during the coldest, most dangerous months of the year and by sleeping out you are helping us do that!
Together, they are looking to raise over £100,000 this year to look after people across the south of Buckinghamshire who will need a safe place to stay this winter. Every single penny helps!
WHC are asking you to sleepout 'at home'.
You can sleep:
in your garden
or an (empty) bathtub
on a school playground
outside a youth club
in the work car park
or just somewhere you wouldn't normally sleep!
You can take part on your own, with your family or with a group, and there's no age limit so everyone can join in.
The Big Quiz is also back! It'll be streamed live online at 7.30pm on Friday 19th November. Sleepouters can watch it then head to their shelter, or if you aren't able to join in with the sleepout, you can still take part and help raise funds and awareness. There's no need to register if you are only doing the quiz; on the night you can click here to find the link to join in.
To register to sleep out click here.
To find out more about our support of WHC and other local charities and community projects, click here.
welcome@charter-house.net