Wellness and Productivity in a changing business landscape – your chance to question a panel of experts including our very own Rut Stefansdottir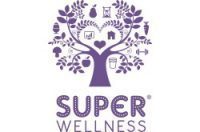 Tuesday 3rd November, 10.00 – 11.30
The health of any workforce is important, even in this age of technology and robotics it is essential that your staff are as healthy as possible, both physically and mentally. Without their health they will not be able to perform at the best levels and will get less out of their work.
Over the past year we have worked with SuperWellness to implement a programme for our team that has not just helped them become more healthy but has helped through the change in working conditions caused by the pandemic.
We are not the only company looking at this and to help other businesses looking at how they can support their team more SuperWellness are hosting a panel discussion that will look at how health can help improve productivity. Rut Stefansdottir, our HR manager will be one of the panellists and will be able to share her experiences of this type of programme during the event.
About this Event
For the past few years, we have been settling into a new era of work. We have seen a shift in employee priorities as the younger generation call for a bigger focus on work-life balance. Thanks to a rise in flexible and remote working models in recent years that has been accelerated by the pandemic, never has our reliance on technology been so pronounced.
Globally, businesses are successfully adapting their day-to-day working practices to suit this new format, but this new professional environment brings with it new challenges. How do you motivate a team that are all located in different places? How can you make your team feel supported and valued? How can you help support their mental and physical wellbeing during challenging periods?
In this virtual panel discussion, five experts in various areas of HR, employee wellbeing, and tech will discuss the ways in which work as we know it is changing, potential solutions to solve these challenges of the modern workplace environment, and ways to usher in a future of work that prioritises employee wellbeing. This event is open exclusively to HR professionals and those who look after health and wellbeing functions in their organisation.
Format
This 90-minute session will be hosted via Zoom. An access link will be emailed to all registrants beforehand.
Panelists
Angela Steel – Founder & CEO of SuperWellness Ltd.
Katie King – Author, & CEO of AI in Business
Rut Stefansdottir – Head of HR at Charterhouse (Accountants) Ltd.
Rob Briner – Scientific Director of the Center for Evidence-Based Management & Professor of Organizational Psychology at Queen Mary University of London
Rory Morgan – Senior EMEA Tech Channel & Marketing Manager for Kensington Computer Products Group
To find out more about the event or to book your place click here.
welcome@charter-house.net